As an Accredited Investor, you have seen lots of deals; some work out, and some do not. But you have never seen a deal like this one.
THIS SPECIAL SITUATION OPPORTUNITY IS ATTRACTIVE FOR SEVERAL REASONS:
It is CBD/Cannabis centric.
Demand for CBD products shows a forecasted growth rate of 40% per year (Compound Annual Growth Rate) from 2021 to 2028.
We are reaching an annual market size of $13.4 Billion.
As more beneficial uses are discovered, regulatory parameters normalize market practices, and consumers become more educated about CBD and its benefits, demand will accelerate.
We formulated and produced a complete, highly effective topical pain management set and are currently selling these through digital marketing and retail distribution.
The addressable market for all segments of the Company's current and planned product sets approximates over $60 Billion annually in the United States alone.
This management team is uniquely qualified to execute this business plan, as they have been practicing for this for the last two decades.
Each transaction by this team has resulted in investor's returns progressively increasing.
The proof of concept and developmental activities were funded by management and investors who have participated in other transactions with management (what else do you really need to know?).
All operational assets are in place and scalable, including Operational Support Systems, Distribution, Investor and Product Fulfillment Logistics.
The Bridge Investors are entering this transaction at the optimal Risk/Reward point.
The Bridge Investors gain a built-in up-lift from the planned two future Crowdfunding capital raises of up to 7.5X the Bridge valuation.


READ FURTHER TO LEARN HOW YOU CAN PARTICIPATE IN THIS SPECIAL SITUATION OPPORTUNITY WHICH IS POISED FOR HYPER GROWTH BECAUSE:
The bulk of the inherent risk has been eliminated with a business plan that is in execution and ready to scale.
A proven management team with twice as much capital at risk than we are seeking from Bridge Investors.
A significant lead investor (who has already invested 20% of the Bridge round on the same terms as are being offered).
Existing capital plan leading to a fully funded (actually, over-funded) business plan. This means that the Bridge investors know their fully diluted ownership position and have no risk of additional capital calls to maintain their ownership percentage.
---
MANAGEMENT TRACK RECORD:
Management has invested over $500,000 to get the Company to this state of operational readiness.
This is not a start-up investment, and most Accredited Investors have learned not to invest in a "Story" deal, because the better risk adjusted investment is not developmental capital but rather to deploy growth capital into early-stage companies on the verge of accelerating to hyper growth. While those deals are out there, you need to not only find the opportunities but to find the right management team because this is really a "Bet on The Jockey".
In this case, Herbal Botanical Products has a great Jockey and team to bet on. You can read about the management teams background in the Pitch Deck which can be accessed by clicking the link below.
Stephen Michael McKay has made a career out of organizing, operating, growing, and selling companies. He grew one such Company from less than $200,000 a year in revenue to an annual run rate revenue of
$60,000,000 in just five years and sold it to General Electric for over $40,000,000. In the process Access America Telemanagement ("AAT") was recognized as one of the fastest growing companies in the United States by INC 500 Magazine two consecutive years (#6 in 1994 and #96 in 1995, the Company sold to General Electric in 1996) under McKay's leadership as Chief Operating Officer.
Here is the proof: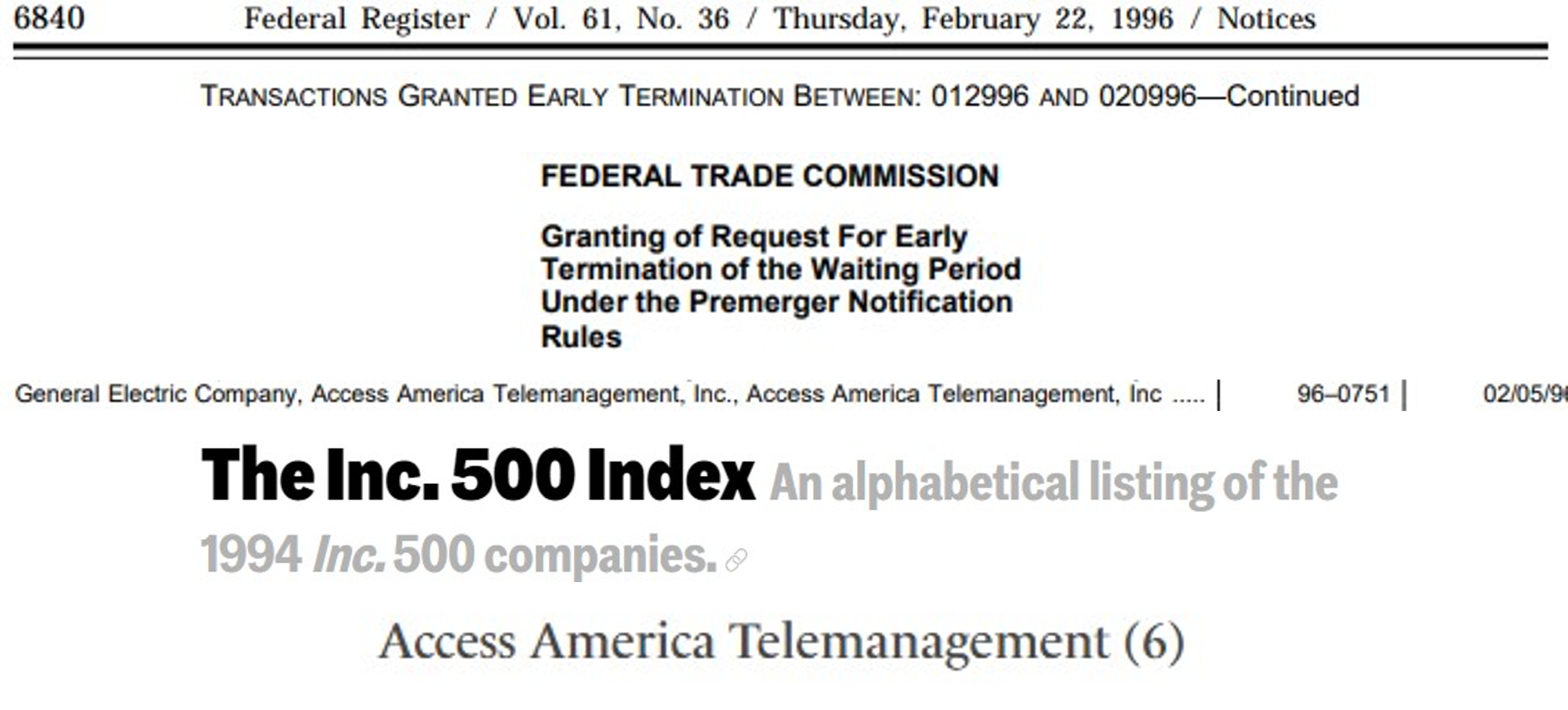 It takes a special skill set to organize, develop, scale and hyper grow an organization, especially one with operations on a coast-to-coast scale like and McKay and the Herbal Botanical Products management team have demonstrated those skills time-and-time again. It takes another skill set to monetize the corporate development efforts, and this same team have proven their acumen in the exit execution arena as well, so investors are investing in a team that can complete the full investment cycle including raising and deploying the capital and then returning the cash with a return on capital.
After the sale of Access AAT, another example of a McKay lead special situation opportunity was the acquisition and liquidation of select distressed assets from a bankruptcy estate resulting in a total return of $55,000,000. After expenses investors realized a 25X cash-on-cash return in about 3-years.
Here is the proof: https://www.bizjournals.com/stlouis/stories/2005/11/14/story5.html.
If McKay and the team can replicate this type of investment outcome for Herbal Botanical Products Bridge Investors, then equity holders would realize roughly $10.00 per membership unit or about 25X your invested capital. But we think there is more to this opportunity.
Now you have the chance to participate in the latest special situation this team has uncovered, just read further to find out more.
CBD IS THE BEST INVESTMENT OPPORTUNITY THAT HAS COME ALONG IN A WHILE.
Why, because the human body naturally interacts with cannabinoids. Chances are that you did not know that the human body has a neural network known as the Endocannabinoid System ("ECS"). The ECS resides just below the derma and connects to CB1 & 2 receptors throughout the body with CB1 receptors in the brain and CB2 receptors in all major organs.
The ECS is the pathway that induces the enhanced Bioavailability which is necessary for the body to derive the potential health benefits from Cannabinoids.
The one comment we always get is , "but CBD is everywhere", which is true, but that is actually an advantage for Herbal Botanical Products; let me explain:
Not All CBD is the Same – Read the Small Print
While CBD is legal in all 50 states, there are still no "rules of the road" from the FDA which means that not all CBD products are equal or even comparable. For instance, some of the market leaders play games with labeling, where they sell a one-ounce container of CBD pain cream with an advertised concentration of 500mg of CBD. Then they advertise another container of CBD cream with 1000mg of CBD, but this container is a two-ounce serving meaning the customer is not getting product that is twice as effective, they are just getting twice the product, it is volume verses concentration.
The quality and effectiveness of the product is where Herbal Botanical Products, LLC, the ("Company") truly shines, and that keeps our customers coming back for more.
In a recent study of thousands of CBD consumers, when asked "What are the Five Primary Product Attributes you Look for When Buying CBD Products"? The key product attributes are:
Quality
Concentration
Effectiveness
Price
Form
Most of the CBD products have low concentrations of active ingredients, over promise and underdeliver efficacy, and have a product catalog that tries to address a broad range of products with no focus on a treatment mission.
At Herbal Botanical Products we only formulate the highest quality products with proven effectiveness by using CBD Isolate, Nanosized CBD and CBG, once again not all CBD products are comparable. Our high level of efficacy is why our customers and Dealers re-order monthly.
---
WHY OUR STUFF REALLY WORKS!
It is simple really, and a matter of bioscience. In the 1990s scientists discovered that the human body has a neural network residing just below the derma, which was named the Endocannabinoid System. This neural network is connected to CB1 & 2 receptors in the brain (CB1) and all major organs (CB2). When incremental CBD is introduced into the body, it triggers the production of more Cannabinoids to achieve equilibrium, thereby delivering the beneficial health properties and results. In the case of inflammation related pain, the result is a neural message is sent to the brain signaling to cease the pain to the area where the external CBD was applied, and the brain responds with a stoppage of the pain signals.
The key is to increase the BIOAVAIBILITY or the absorption so that there is more incremental external CBD infused into the body, thus increasing the body's natural production which provides more relief and beneficial results. To accomplish this all Herbal Botanical Products, LLC uses CBD Isolate, Nanosized CBD, CBG (Stem cell), and in the case of out topical pain creams we add a proprietary matrix of five Terpenes that assist in reducing inflammation which is the root-cause most muscle and tissue pain.
Developing products that increase BIOAVAILIBILITY and thus the product efficacy is the guiding principle that Herbal Botanical Products, LLC has used to formulate all of its topical pain product set.
The key take-a-way for investors is that once pain patients try our products, they become returning customers which produces a recurring revenue stream, which increases the profitability and expands the enterprise valuation multiple.
---
HERBAL BOTANICAL PRODUCTS, LLC BUSINESS OPPORTUNITY
The Herbal Botanical Products business opportunity embodies all of the key elements of the last two build and sell special situations that McKay and the team have been involved in. Herbal Botanical Products began exactly the same way as the Lucent special situation, with McKay acquiring select CBD/Cannabis assets from two bankruptcy estates. After that strategic move, the business model was developed, products formulated, operational assets built and distribution plans executed, just like Access America.
The risks related to the current bankruptcies have been abated and operational risks are mitigated as the Company is revenue positive, has substantial raw material and finished goods inventories and revenue is growing. Finally, just like in the Lucent deal, potential returns are compelling.
The age-old adage of individual investors is to "Bet on The Jockey" and that is ever so true in this case.
As a former COO, CEO & Chairman in the competitive and highly technical Telecommunications industry, McKay has the operating experience to lead and develop the Company's operations, the forethought to position the Company for exponential growth and to exploit the coming consolidation within the Cannabis business sector, just like he did in the telecommunications market during its period of hyper-growth in the 70s, 80s, & 90s. In fact, Companies that Michael lead were top rated INC. 500 growth companies.
If you would like to read more about Stephen and the other members of the Herbal Botanical Products management team, please click this link to the Pitch Deck and read the bios for the Team: https://foundersuite.com/pitch_decks/c09234c6-d4ad-464a-960d-d23b94fded83.
While you are reading about the Team, check out Randall Allen. Prior to Stephen and Randy working together for over 20 years, he served in the US Navy Submarine Force as a Nuclear Reactor Operator and Supervisor finishing his career as Chief of the Boat on a Fast Attack Submarine, the senior enlisted advisor reporting directly to the Commanding Officer. In Telecom, Randy was Vice President of Information Technologies with the second Telecom company. That Company had operating authority in 39 states to provide local, long distance and other value-added services, all billed on a single unified bill. The operational challenges in that highly technical and complex environment were a technical "Rubiks Cube", but Randy developed a successful integrated Operational Support System that made the entire process seamless for employees, vendors, and customers.
Compared to the Telecom environment and running a nuclear submarine for the US Navy, the challenges associated with scaling CBD products pale in comparison.
In fact, it takes a lot of hard work and smart decisions, all guided by experience from prior successful transactions to get a special situation from the Alpha to the Omega, from cash in to cash out. There are always surprises and adjustments have to be made, so the right leadership from management is the difference between a 100% loss and a 25X return.
Operationally Herbal Botanical Products, LLC has:
Customers
Distributors
Omnichannel Digital Marketing Strategy
Revenue
Inventory
The operational platform exists and is functional and ready to scale.
---
BRAND BUILDING AND MARKETING PLANS
Kevin Harrington – As Seen on TV – The Company has executed a Participation Agreement ("PA") with Fortune Media Group DBA Kevin Harrington Studios ("KHS"). Kevin was one of the original panel members and investors ("Sharks") on the ABC TV series Shark Tank from its inception in 2009. He left in 2011 after two seasons of the show. The PA provides the Company with a number of marketing and branding services which include the following:
The production of a 30 second advertising spot featuring Harrington as the official product spokesman for the pain cream product including his endorsement;
4 full-page four-color print ads featuring Harrington and our product;
A guarantee of 1,500 digital plays of the 30 second spot on Connected Television platforms;
500,000 Twitter impressions;
Full promotion through its integrated social media outlets.
All of the initial elements of the PA have been completed and delivered and we have pricing for all services which can be redeployed at any time.
As part of the Agreement, Herbal Botanical Products received a license in perpetuity to use all creative produced under the PA which will enable the Company to utilize the marketing content in other marketing campaigns including: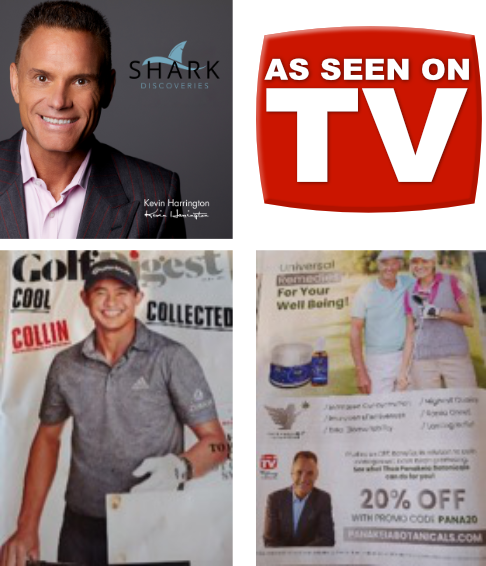 Arthritis Foundation Sponsorship – The Company has received a proposal from The Arthritis Foundation ("TAF") to become a Supporting Partner at the Circle of Champions level, the highest partnership level offered by The Arthritis Foundation. As part of this program the benefits are:


Access to another 300,000 followers on social media with promotion provided by TAF;
Promotion in TAF enewsletter sent to 650,000 subscribers;
Two 30 second spots on podcasts where we would run the Harrington ads;
Full page ad in Arthritis Today which will be published in October where we will use the Harrington print ads;
Promotion of a percentage of revenue campaign where we would offer customers a special discount and a percentage contributed to TAF, and;
Recognition of the LGGA campaign as a partner sponsor (there are only four partners currently listed with CVS Pharmacy being one).



---
SPECIAL SITUATION COMPARATIVE ANALYSIS
This management team has acquired all of the skill sets over the last few decades of execution that are required to successfully execute this business plan. These skill sets include the following: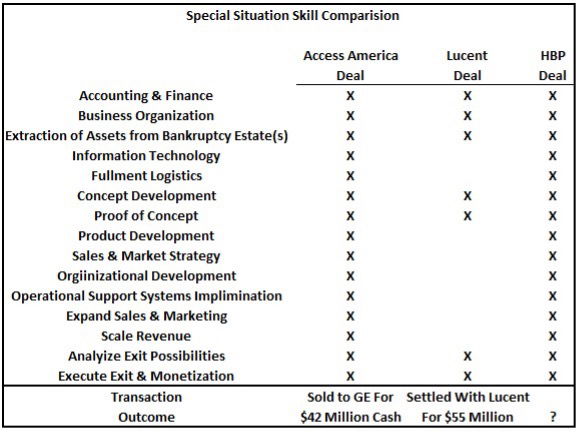 Over the last 20+ years the Herbal Botanical Products management team have acquired all the necessary skills to successfully execute this business and capital plan.
As a reasonableness check if the outcome for Herbal Botanical Products be equivalent to the Access America deal, equity holders would receive $8.40 per membership unit (assuming not balance sheet adjustments) or 21X the original investment. If the outcome is equivalent to the Lucent deal, then equity holders would receive $11.00 or 27.5X, again assuming no normal accounting adjustments.